Installation, performance, film expérimental

Au départ, une installation… 
Iconostase , c'est au départ une « installation iconographique » réalisée en résidence au Centre d'Art de la Pommerie (Corrèze, France), en 2004.
L'installation représente une série de 12 « Icones » avec « reliques », qui sont des photographies dans une boite en bois, comportant des objets-souvenirs. La série des 12 images s'enchainent dans un ordre logique et rappellent les douze stations d'un chemin de croix.
L'installation de ces icônes dans le Centre d'Art de la Pommerie a pris une forme multidimensionnelle et pluridisciplinaire, qui a engendré dans l'espace la présence d'autres œuvres plastiques et photographiques, ainsi que des recherches sonores et performatives. Les images sont devenues vivantes à travers la performance, le corps et la voix, les mots, la poésie et les expériences sonores. L'espace est devenu le cadre d'une histoire.
L'ensemble a été réuni et reconstruit dans une œuvre unique, un film expérimental de 20 min, le film « Iconostase » (voir dans "oeuvres vidéos")
(english)
At first, an installation…
Icono-Stase is a serie of 12 icons, made with photography and memories objects. These 12 boxes are called Icons, and the whole series reminds the stations of a "road to a cross", which has been presented in a big installation in an old barn, during a residency project in 2004.
Along the residency, this installation took some multidimensional forms and extensions, and became the frame of a story, where the pictures became alive into performances, body and voices, words, poetry and experimental sounds, to translate finally a research and a reflexion about the movement itself.
These actions took place in the frame of the original installation, and the process has been filmed, to gather and connect the whole creative space. Icono-Stase became later an experimental film of a movement-sounds-body performance, in the frame of an iconographic installation.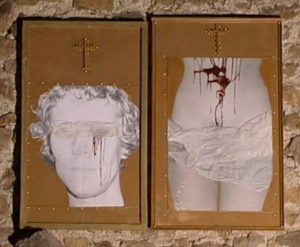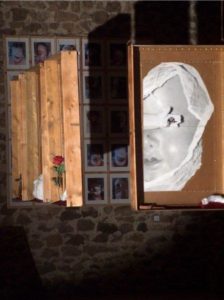 La Femme-Prothèse
"Reliques",  moulages et objets divers